General News Direct From Brunswick
Pricing
High demand for products mixed with continued supply chain disruptions continue to put upward pressure on pricing. We continue to plan for quarterly price updates. Unlike the July pricing updates, the October increases will be limited to approximately 270 items.  The new pricing goes into effect October 15th.
Shipping
Onboarding and retaining staff in our warehouse operations remains a very big challenge. Recent recruiting changes have started to show some success with many positions filled across the company in the last few months. The addition of the warehouse's second shift has allowed the first shift to concentrate on distributor orders. There has been progress made in both reducing the current lead times for processing and movement towards a more standard weekly shipping. We hope you have noticed some improvement over the few weeks with processing your orders.
Supply Chain Updates
We are having better success with getting products produced and shipped, which is a positive. However, backorders will continue to be a challenge as the back log has begun to stabilize but no signs yet of dramatic or rapid improvements. Because our warehouse has been making progress with order processing lead times, we believe we will be in a better position to address backorders quicker when product does arrive in Muskegon.
Backorders
Pins The lead time for all new orders is 12 weeks. The volume of new pins ordered continues to exceed the volumes we receive, limiting our ability to make progress with reducing lead times.
Accelerator motor – 99030363004. Our first shipment of the accelerator motor kits arrived and shipped to fill some of the backorders. We are expecting another shipment to arrive mid-September. We will not receive
enough kits to fill all open orders, as our supplier has delays with some components need for the kit. We will continue to prioritize shipping kits when they arrive.
Deck chutes Our deck chute supplier has been able to fit in deck chute production during lower humidity periods. All deck chutes are now in stock.
Belts Our biggest challenge right now is for the cross-conveyor belt, item 12-450037-000.
Ball lift tires We continue to receive shipments of the red v-tire 90-520060-000. Our next received shipment will be around October 10th. We expect to have additional inventory after that. All other ball lift tires are in stock.
Rental shoes Demand remains strong for rental shoes which has continued to keep us on backorder. We are expecting container shipments at the end of September, October, and November and should be able to greatly reduce our backlog by the end of the year, 2022.
House Balls The first Myball house balls arrived in early August, along with a Billiards ball shipment. The oldest orders are being filled first and orders have been shipping for the last couple of weeks. We still have many balls on backorder, which we will continue to fill as new shipments arrive.
Chemical supplies Cleaner inventory and manufacturing have now caught up to current demand. For conditioners, we are experiencing continued supply chain disruptions, and therefore continued production delays. We are doing everything we can to blend products, as quickly as possible.
Logic 2.0 and Connect 2.0 are ready for production but awaiting more raw materials. If you have not read the brochures on each product, they are housed on the product pages on our website.
New Products
MAX Life Synthetic Pins – We are pleased to introduce the new MAX Life pins, which will be available for both free fall and string pin machines. MAX Life adds a synthetic pin option to our current traditional wood pin line. A limited amount of the new pin is arriving late October, early November. The pricing and part numbers are below:
63-861190-167  MAX LIFE SYN RED CROWN                      $190 per set
63-861191-167   MAX LIFE SYN RED CROWN STRING     $225 per set
View the flyer below: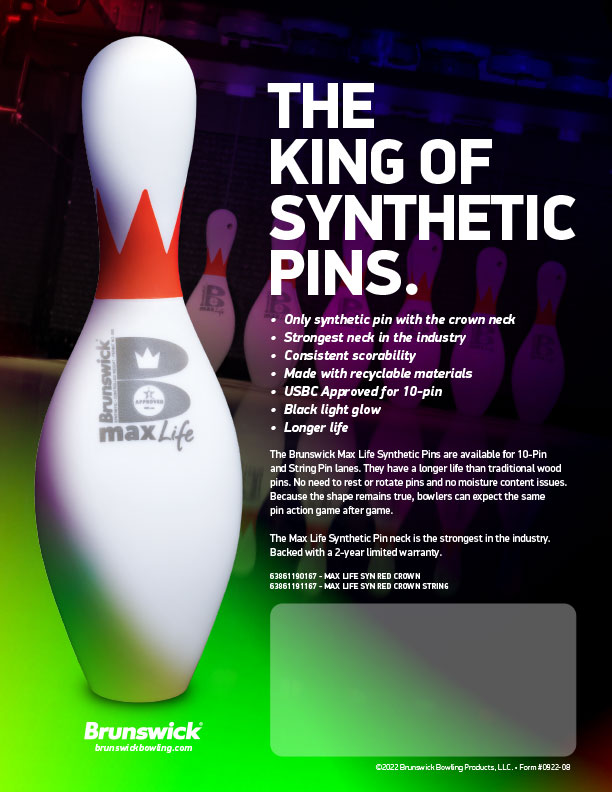 October 15, 2022 Updated Prices: